Families are asked to come by the school on Friday, November 5th from 8:00AM-6:00PM to pick up their student(s) work for the next week. If you have completed work that is ready to be turned in this may also be done at this time.

In order for a student to be counted present during remote learning they must do homework for that day and turn it on Monday, November the 8th. If you have any questions regarding work teachers are available by phone (618) 755-4611 or email from 9:00AM-1:00PM Tuesday-Friday.

Attention Parents and Guardians: Due to a high number of absences, Field Community Consolidated School District has determined that it would be best that the district transition to Remote Learning from November 2nd through November 5th. The decision to transition to Remote Learning was reached after consultation with the Jefferson County Health Department. During Remote Learning teachers will be available from 9:00 AM-1:00 PM via email or phone to answer questions about assignments on Remote Learning days. Additionally, if you signed up for a parent teacher conference, they will now take place over the phone. From November 2nd-November 5th there will be no athletic contests or practices at Field School. Finally, if you would like to pick up breakfast or lunch for your child, or children, please notify the school by 2:00 PM each day for the next day's meals. Breakfast and lunch will be available for pickup each day between 10:30-11:15 AM. Thank you, Wayne Stone Field School

Today is the last day to sign up for parent teacher conferences that will be held next week. Links for sign up are under news. Have a happy Halloween weekend!

Bus # 16 will be running late this morning. It will be leaving school after another bus returns. We are sorry for the late notice and inconvenience. If you need to drop your student(s) off the school is open at 7:30AM.
Reminder mask are mandatory at both home and away games for players, cheerleaders, and fans in IL per Governor Pritzker.

There will not be YMCA after school program on the 11:30 dismissals. The dates for these days are January 14 and February 18. We are sorry for any inconvenience this may cause.

Concession stand volunteers for October 26th 2021: Opener- Jenn Holloway Middle-Jamie Watson Closer 1- Christina Pinkston Closer 2- Jenny Green

Girls' Basketball Addition: November 4th JV will play Salem Junior High at Field 6:00; Varsity to follow playing Kell/Farrington

Changes to original Girls' Basketball Ball Schedule are as follows: November 4 @ Field Vs. Kell/Farrington Varsity Only start time 6:00PM November 16 @ Iuka will be Varsity Only start time 6:00PM November 22 @ Grand Prairie/Irvington cancelled January 4 @ Odin Varsity Only start time 6:00PM

Friday October 22nd Breakfast Menu Change: Powdered Donuts Applesauce 100% Fruit Juice Milk, Variety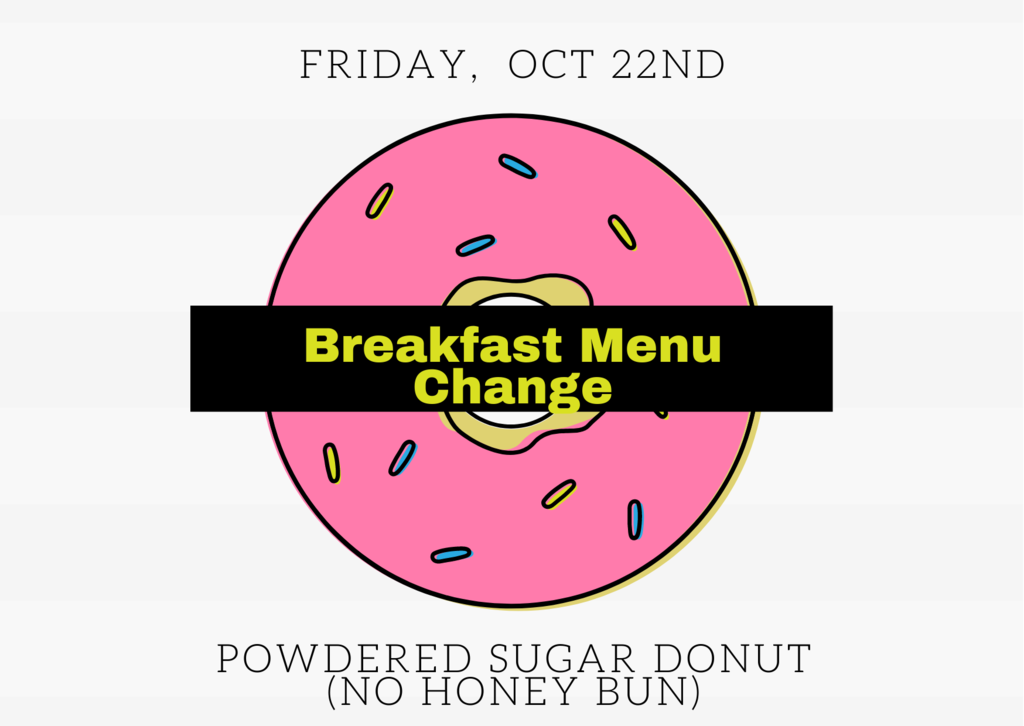 Mark your calendars! Red Ribbon Week is October 25th - 28th Oct 25 - PJ Day: Follow your dreams, don't do drugs! Oct 26 - Nerd Day: Too smart to start! Oct 27 - Twin Day: Friends don't let friends do drugs! Oct 28 - Futuristic Day: Your future is too bright to do drugs!