If you would like to come by the school and pickup a meal for your Field student(s) please email Ms. Arnold (
jarnold@fieldpanthers.com
) by Tuesday at 8:30AM. Meals will be ready for pickup at 11:00 from the front awning.

Field School will be taking an eLearning day tomorrow, Tuesday the 31st. Please complete packet # 2 and bring back upon returning to school.

Field School will be out today for a traditional snow day. There will not be a fan bus tonight for the boys' game. Please stay safe and we will see you at school on Tuesday.

Our boys are playing for a regional championship!! A permission slip for a fan bus for students in grades fifth through eighth is attached. Come help us cheer on our Field Panthers!!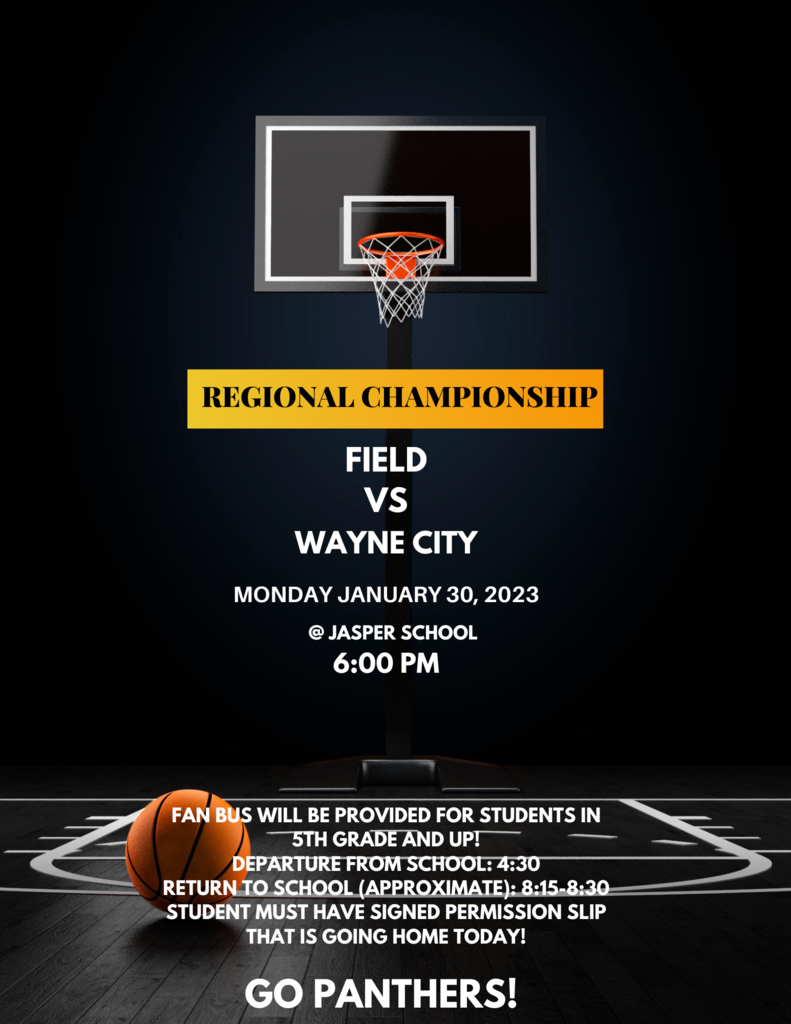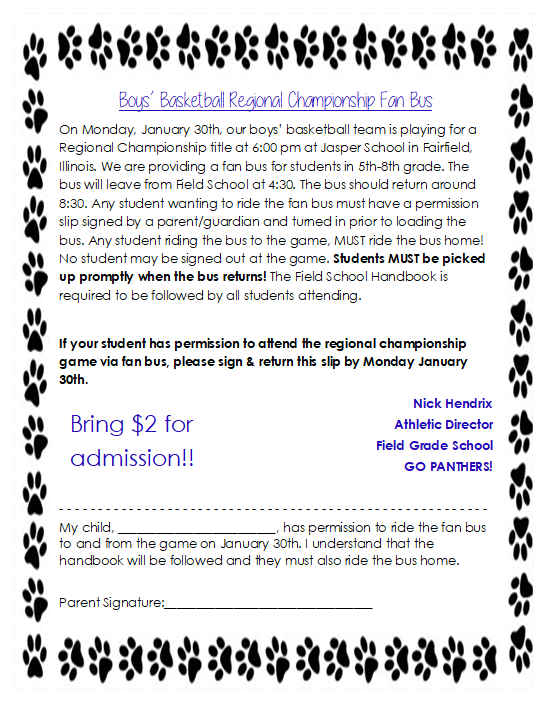 Field Community Consolidated School District #3 is soliciting sealed bids (per harvested bale) for hay harvest on one tract of land to be harvested two times in the Summer of 2023. The tract is located at: 21075 N. Hails Lane Texico, IL 62889. Bidders must place bids in a sealed envelope labeled "Field Hay Harvest." Applicants must be 18 years of age or older. Bids must be received at the school by the close of business (4PM) on February 16, 2023 to be eligible. The bid opening will take place at the school Board of Education meeting on Thursday, February 16, 2023 at 5:00PM. The successful bidder will be contacted by phone if not present. Please call (618) 755-4611 and speak with maintenance director, Jeremy Prosise with any questions.

Field School has consistently participated in the statewide 5Essentials Survey and is opting to administer the survey again this year to continue tracking our performance. The parent window to participate is now open please go to
https://survey.5-essentials.org/illinois/survey/parent/login/
. Thank you for your participation.

Tomorrow, Friday January, 27th, is picture day for all PeeWee sports, Volleyball, STEAM, and Brain Games. Please make sure your student has their uniform (if applicable) with them as pictures will be begin at 8.30 a.m. Have a great day!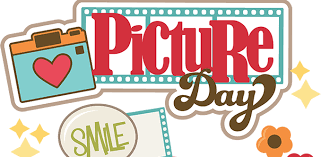 Parents and Guardians of Field Students: With the possibility of snow accumulation in the weather forecast for tonight and tomorrow Field School will not be in session on Wednesday, January 25th. If you would like our kitchen staff to send home breakfast and lunch for both Wednesday and Thursday for your child(ren) please notify the office by 1:00 PM today (Tuesday) at 755-4611. To clarify, school is not cancelled for Thursday at this time. The lunch and breakfast for Thursday are in case it becomes necessary to cancel school for Thursday. Students should complete Snow Folder Day One for Wednesday, January 25th.

Parents with the possibility of incoming weather for Tuesday night into Wednesday morning I would recommend starting to find child care for your student(s) for Wednesday. At this time we are not canceling school, but trying to be proactive. If we do have to cancel school for Wednesday students will be expected to complete snow day folder day 1 activities and return them on the next day of school attendance in order to be counted present and get grades on the activities. If your student has misplaced their folder you may find the activities at
www.fieldpanthers.com
click on students then remote learning packets. We will keep you informed tomorrow on Wednesday's school attendance.

Congratulations to the Field Cheerleaders for 2nd place in the ICCA State Game Day Cheer competition!!!!!!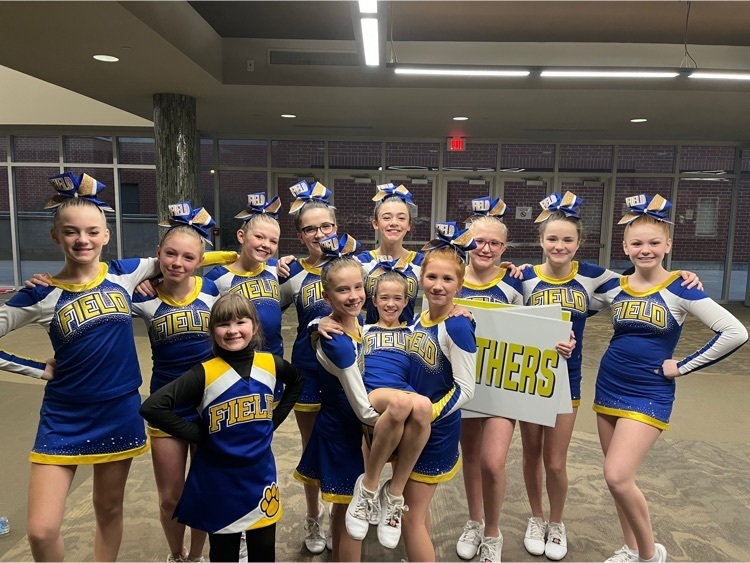 K-5 parents please check this opportunity out.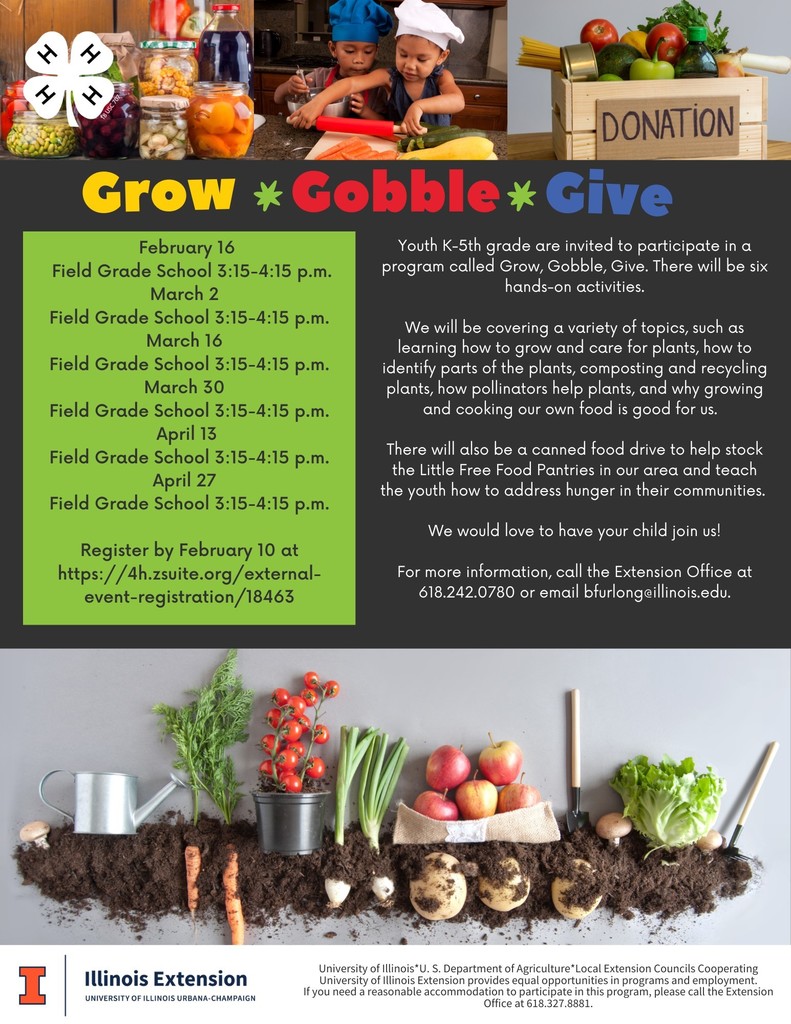 Change in breakfast menu: Monday, January 16th the breakfast menu has changed to Scrambled Eggs, Toast w/Jelly, & Pears.

Join us for our first trivia night!!!! Register yourself or your team by emailing
fgsfocal@fieldpanthers.com
! Proceeds benefit Field School's FOCAL - our money goes back to the community in many ways! 10 rounds of 10 questions. Mulligans & small concessions available for purchase. All are invited!!! Share with your friends!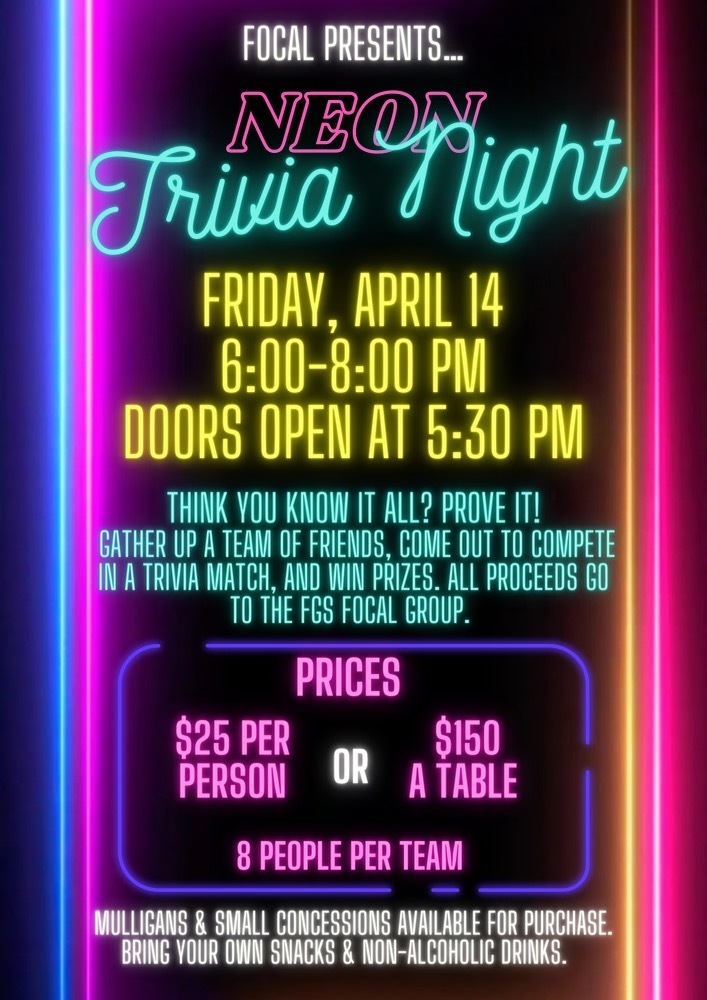 Scholar Bowl schedule has been changed. Please look under the events tab for correct dates. We will no longer be playing in the Oil Belt Conference.

Parents please note a change for Mrs. Rincker's bus and Mr. Stone's bus for tomorrow (1/6/23) If you know someone with a bus license, please have them call the school so we can avoid this in the future.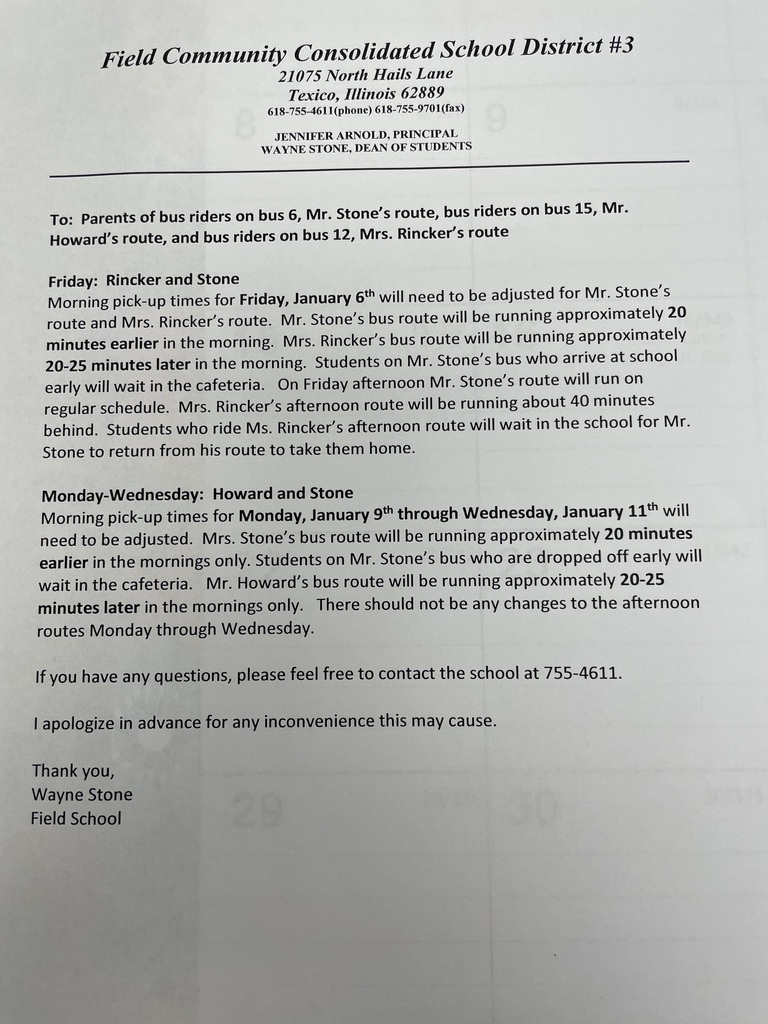 Parents please take note if your students ride Mr. Stone or Mr. Howard's bus.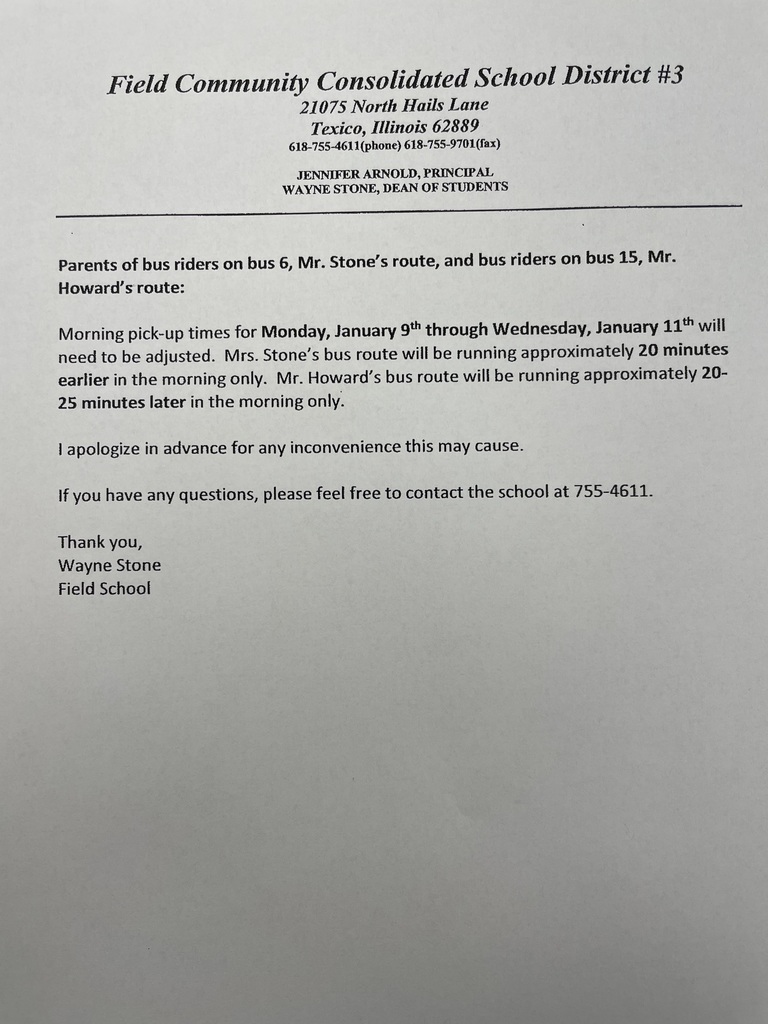 The scholar bowl meet for today has been canceled.

Reminder cheerleading practice tomorrow at 7:30 and 3:00-4:30.

Parents of 3rd & 4th grade girls! Reminder to email Mrs. Hayes if your daughter is interested in playing peewee volleyball!
nhayes@fieldpanthers.com

Thank you to Meghan and Max from ROE 13 for coming and presenting on McKinney Vento and Social Emotional Learning.